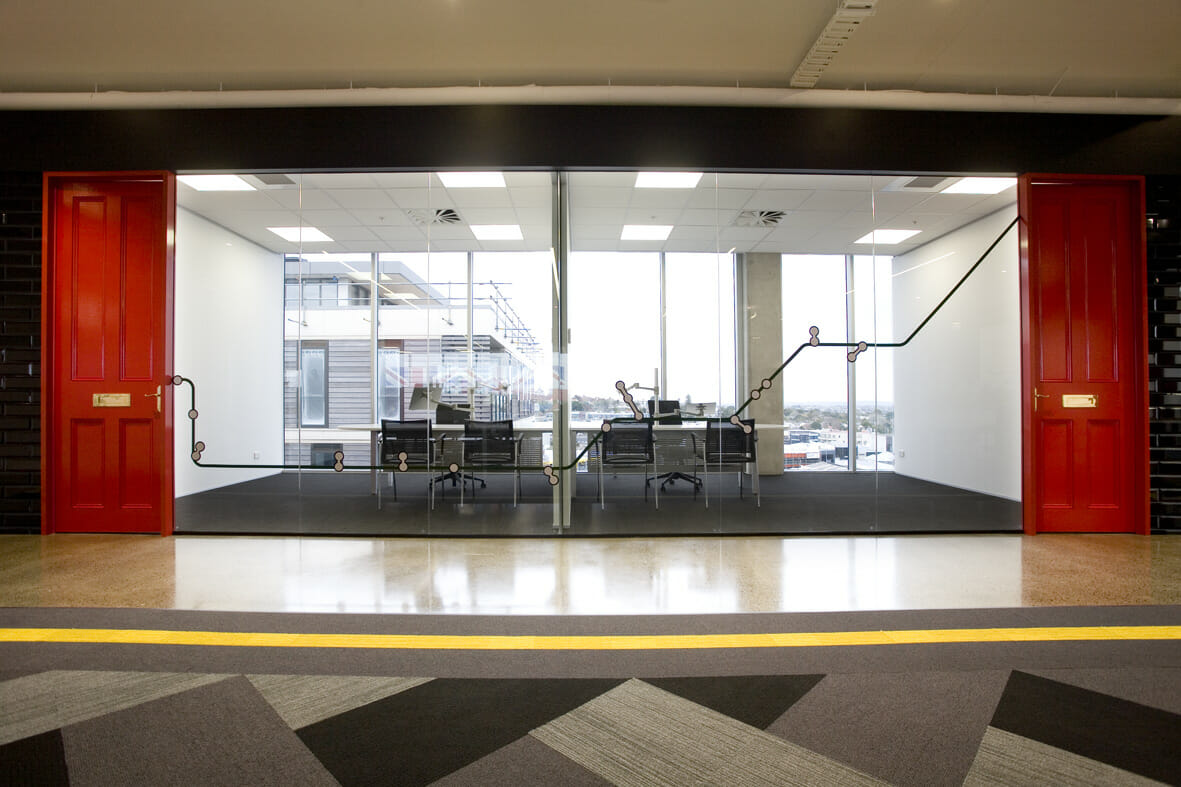 August, 2022
Office Design Over A Decade
Projects
This project from the Spaceworks archives shows an interesting change in office design.
This project is near on 8 years old, it no longer exists however it brings up an interesting change that we have seen in Office Design. In the period of 6-10 years ago the designs being requested were heavily themed, often relating to a core function of a business. This project is a perfect example. It was never designed with a view that it needed to stand the test of time, it was serving a purpose and that it did.
Having their business in London, Bankstream came to us with a brief of wanting the New Zealand office space to reflect a UK theme, so local staff can understand where their business was coming from and going to. The Spaceworks design team took on this challenge, and touched down in Londontown; tube station detailing in the open plan, police bobby hats in the reception, a note to 10 Downing Street for the boardroom doors, a modern take on an English Pub for a breakout space.
Having previously worked in the building before, this space was the top and final floor left to fill. It was an open shell, a completely untouched canvas for us to transform into what you see here.
The client wanted several surrounding offices, with an open plan space in the middle, with lots of glass around to allow the natural light to fill the space while still supplying some privacy. Every surface was a place we could play with. To the glazing at the front of each office, there is a tube line, stops included. And to the large group office, a banner of contemporary Union Jacks were applied.
The frame to the open plan is a reflection of what you would see at any tube station in London. The carpet tiles are a representation of the tile work, with a banner of yellow, and the all-important MIND THE GAP to each corner.
Behind the breakout space, you will see Nugent Street Station tube stop sign; a fun way to compliment what you would see in London, but in specific to the client's Auckland base. To the wall we added custom graphics, designed in-house here at Spaceworks, incorporating custom Mr. Perswall white brick wallpaper.
One request from the client was to have a large kitchen to use for their many functions. This fully equipped space, with custom London Skyline and red brick wall detailing, is a large space with a custom high bar, specifically required for the all-important bar leaning stance. And to make the space larger, the multicoloured operable wall opens up into 10 Downing Street (the boardroom) for even more space allowance for a good shin-dig.