March, 2021
The Office of the Future
Opinion
The shape and form of offices has never transformed so quickly. Previously we saw a slow transition from cellular offices, to open-plan, to hot-desking, then activity-based working. Now, this physical space is changing faster than ever before.
No longer are we getting up, showing up, clocking in, clocking out, eating, sleeping – repeat. Now it's all about productivity, collaboration, health and wellbeing and technology.
Companies are moving away from traditional spaces and gazing into the future, in response to a pandemic which has forced new ways of working upon us.
I have long believed that the places we eat, sleep, shop and work are becoming increasingly similar in terms of design in the sense that we look to create spaces that support the function the occupant wishes to undertake. Offices have dragged the chain in this regard until recently with many businesses still having large open-plan areas (or holding pens as I sometimes call them) and have not added ancillary spaces for focused work, collaboration or team meetings.
With the pandemic enforcing working from home, we have now added a new dimension to how and where we can work. The trajectory we were on of moving from open plan to hot-desks, to activity-based working, now needs to take a substantial leap forward.
Other aspects also disrupting the physical space include technology. We can now easily 'work from anywhere', a term I prefer to 'working from home'. Once the pandemic releases us from the need to work from home, we must apply what we have learned to working from anywhere that suits, provided it is in the best interests of productivity and efficiency.
We have Zoom and Teams, cloud computing, remote work communication solutions – all of which had been available but were often only seen in the technologically advanced workplace. Necessity has forced us to learn and adapt so we all can make the leap forward without leaving people behind.
The office of the future is a purpose-designed space, curated in a way that understands who it is serving, what it will be used for and the purpose and output of that space. It will not necessarily be smaller, in fact it could well be the same size but it will need to be more purposeful.
We have seen first-hand that companies cobble together an office based on a cost-cutting consolidation solution rather than looking at the positive gain a space can deliver. In most cases we can deliver on the positive objective with a consolidation consideration. However, it must be completed from the perspective of what can be gained from a physical space rather than what can be cut from the cost.
Increasingly, we are seeing the adoption of a flat structure in the physical space; gone is the CEO's large office or leadership teams in prime positions. There is growing understanding that hierarchies and siloes inhibit cross-communication and thinking, limiting innovation and business agility. When leaders sit with their team, quick conversations and contributions can be made, allowing a business to be agile and flexible.
We will continue to see further adaptions to the Neighbourhoods and Activity Based Working (ABW) concepts. With Neighbourhoods, many businesses cluster groups by what they do, so that sales and marketing might be together, as are production and operations. In other businesses Neighbourhoods are focused around industries, ie all the people that serve the food and beverage industry are together – a mix of accounts, creative, planners, finance etc. Each of these Neighbourhoods usually has its own space to work from for focus and collaboration.
Activity Based Working is focused around creating spaces for the function that needs to be performed, such as meetings, focus, collaboration or socialisation. We have found this successful in smaller companies where the staff count is not large enough to lend itself to Neighbourhoods.
The physical office of the future is about Connection, Purpose, Flexibility and Technology.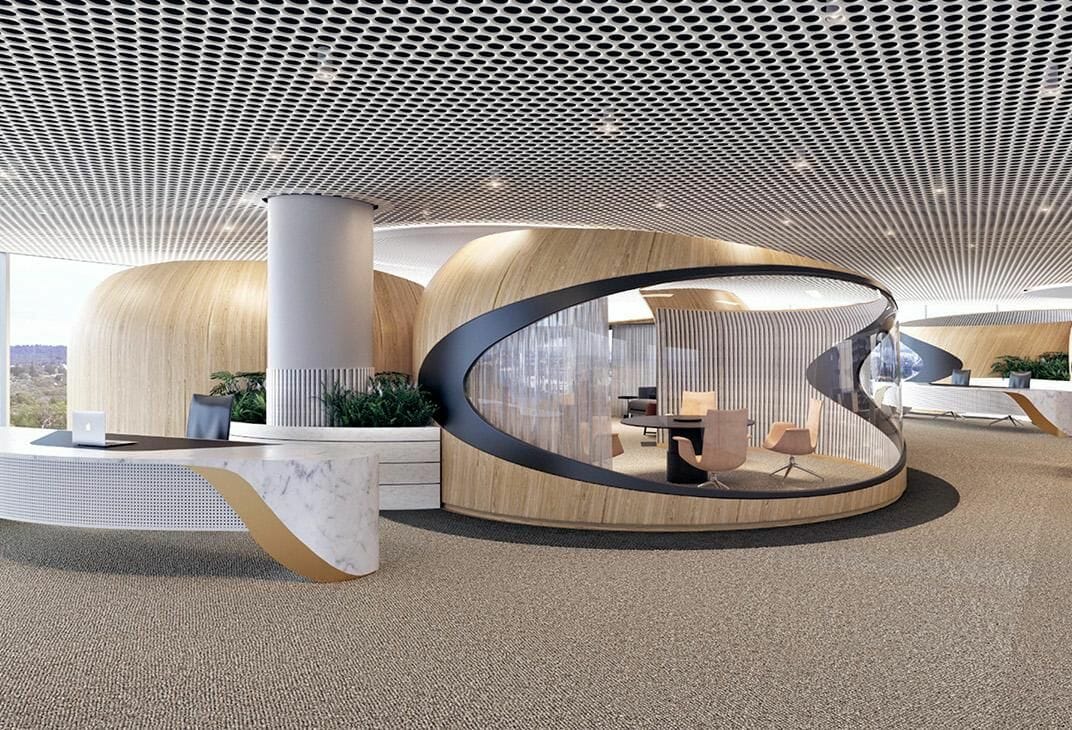 Connection: Through the pandemic we have learned that working from places other than the office can be effective and, in some cases, far more productive. We have learned also that there is nothing like a face-to-face meeting if it is available to you. Whether it is for collaboration or a tough conversation, the benefit of body language to gauge where someone is at is a critical asset.
When the world returns to a place of stability, the office will be a haven for that collaboration and human connection. It will no longer be the holding pen where people come to work, it will be for creativity and innovation. Rather than a single destination, the office will be part of the work journey, an aspect of it, but not the sum total.
Purpose: The reason for the physical office needs to be clear. How do you want me to work from here? When do you want me to work from here? What do you want me to achieve when I am here? The answers become clear if connection is a consideration for businesses. The purpose of the office should be connection and engagement rather than output. The combination of these four elements is what collaboratively produces output. But none can work effectively in isolation.
Flexibility: Employees now expect their work role to be like their life – flexible. Much of the workforce has grown up using laptops or tablets, and see Desktop PCs as a handbrake. They want to work where they want and a PC does not provide that flexibility.
According to the 2016 Global Report, Engagement and the Global Workforce by leading office furniture manufacturer Steelcase, 'The most highly engaged employees have greater flexibility to make choices about where and how they work. They can move around the office easily, change postures and choose where they want to work in the office based on the tasks they need to do.'
A UK Workplace Survey by global interior design firm Gensler Research Institute in 2019 showed a correlation between innovative organisations and flexible work. 'Not only variety but the freedom to work wherever and whenever is most effective, is a key performance driver for UK workers and workers across the world. Employees who rate their organisations highly on innovation measures also report having greater choice and use a wider range of workspaces to get their work done.'
Technology: When we first went into lockdown in NZ in March 2020, a cascade of businesses struggled to set everyone up to work from home. But it didn't take long. From that point the success of the business and its people relied on the strength of its technology, its ability to connect people through video conferencing and the ease with which people could pick up their laptop and go home. Those with PCs suffered and will continue to suffer as we bounce around virus alert levels if their company has not yet invested in laptops.
Technology in our personal lives has been far more advanced and responsive to our needs. We have had video conferencing via FaceTime and Skype for years. FaceTiming your friends in the UK or Skyping Grandma is easy. Such consumer behaviour has pushed the move toward business options that are similarly easy to use. The more digital solutions we have available in our personal lives, the more we will expect it from the businesses we work for.
Intentional digitised workspaces that support staff to be productive and effective are also having a positive flow-on effect on innovation, collaboration, employee engagement and retention.
A potential issue for the design and construction industry is the ability to keep up with the changes required in flexibility and technology. We can design a space with the latest bells and whistles but by the time it is built something newer and better has become available.
This applies not just to digital technology but also to lighting, acoustics and collaboration tools. It also supports the other two aspects I predict will be key components of the office of the future; connection and purpose – when designing a workspace the reason for the space is the most important driver, with flexibility and technology supporting this.
In my experience and my research these four key traits are all important in creating the office of the future. But this is not where businesses should start. Businesses need to start with their people: ask, ask, ask – what does your organisation want? What do the people need? What would make them efficient and effective? What do they need to be productive?
Once you know this – apply the key traits to start your office of the future.