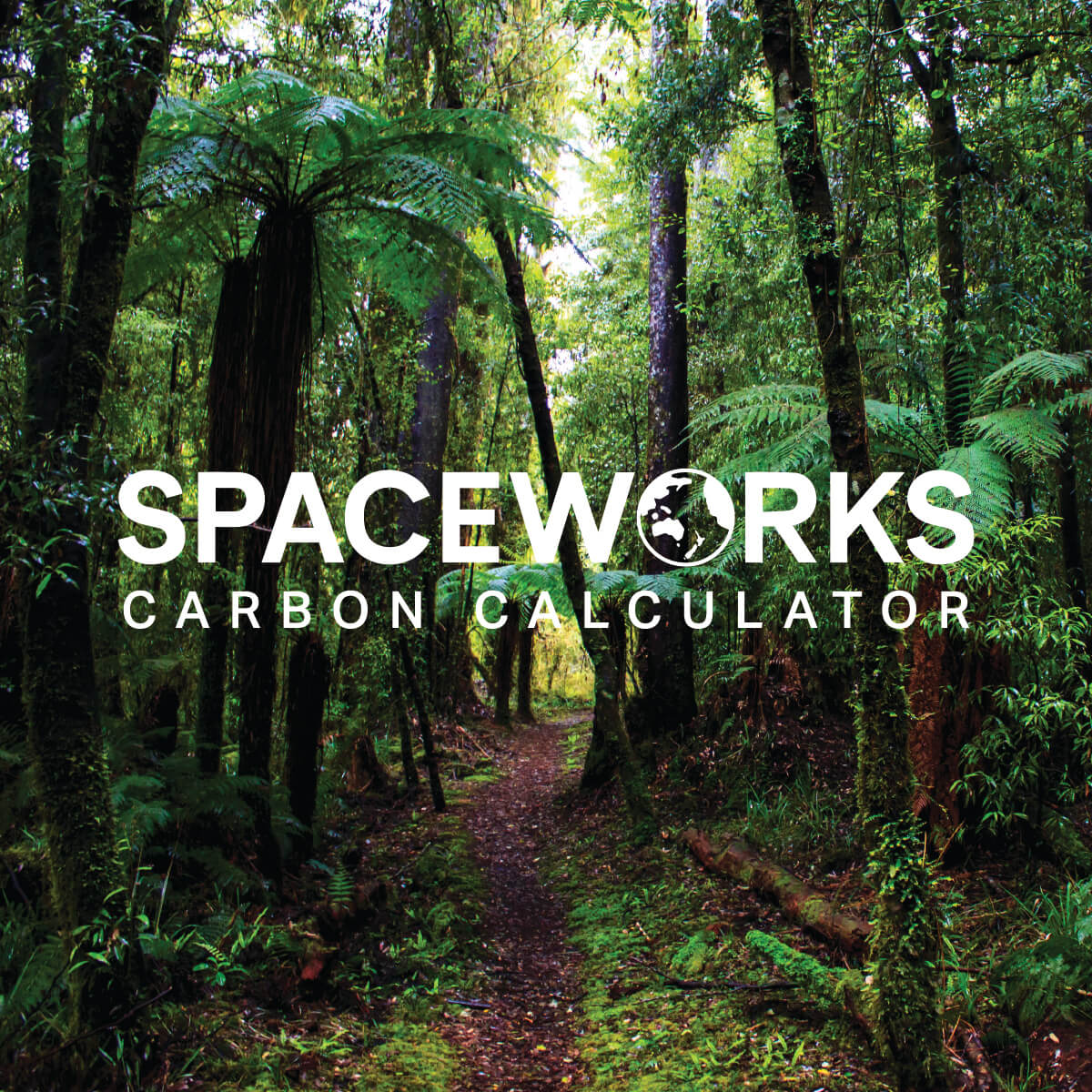 October, 2022
Spaceworks Carbon Calculator
Media
Spaceworks set to launch custom carbon calculator.
NBR – Thu, 20 Oct 2022
Kate McVicar
Auckland interior architecture firm Spaceworks will launch a carbon calculator next Thursday in collaboration with Toitū Envirocare, designed for the New Zealand building industry.
Spaceworks chief executive Lizzi Whaley approached the environmental organisation to build a custom carbon calculator that will allow the company to provide emission estimates for clients and their projects.
Whaley told NBR that while there were sustainability certifications such as Green Star, there wasn't much for the fit-out sector (where a building is turned from a shell into a fully functional space).
Spaceworks operates in the short-term construction area, including fit-outs for offices and retail shop, which have a far shorter product lifecycle compared with 50 to 100 years for others in the building and construction sector. Whaley said there was a lack of desire from other parts of the industry to understand the impacts of that.
"I was finding a real frustration in terms of seeing all these really good initiatives that are happening for new buildings that have lifecycles of 50 to 100 years and just sort of thought: 'What about us?' Because we're actually creating a lot of damage in this market, the way we just put things up and then pull them down, and there is just nothing happening in our part of the part of the market."
The carbon calculator differs from others on the market (including the Toitū e-manage calculator) by using different structures and emissions calculations. It also takes into consideration the carbon that is emitted purely from the construction process.
Whaley said Spaceworks will continue to use the standard Toitū calculator to measure emissions from the business itself and will employ the new calculator for its clients.
Initially, the company plans to hang onto the calculator and keep it for its own use, but down the track would be open to requests from other companies and would like to see it become available for others to use.
The process
Whaley described the tool like a giant excel spreadsheet that has a lot of pre-loaded carbon information.
Data related to the plan – such as flooring on a square metre basis or linear metre walls – would be entered into this platform and turned into calculations that equate to measurements people can understand, such as distance travelled in a car.
After the initial carbon footprint is calculated, design reduction options are provided to clients, and they then have the choice to offset the remaining carbon through an accredited company that brings the emission rate down to zero.
So far, the calculator has been tested on three office fit-out projects ranging from 250sqm to 1500sqm.
Average testing has found each square metre equates to between 50 and 65 kilograms of carbon dioxide.
In building project terms, this means a 250sqm fit-out produces 11.25-15 tonnes of embodied carbon and a 700sqm design produces about 49 tonnes (the equivalent of 13 flights between Auckland and London).
Whaley said the calculator will be an extra part of the design phase and the cost would vary depending on the complexity of the project.
She said it's not a profit-making machine for the company but would equate to about 3% of construction costs and 3% of project costs that would cover running and operating the calculator as well as developing reduction strategies for clients.
Whaley also defends against claims it might be a marketing move.
"It would be easy to say it was a marketing ploy but if it was a marketing ploy, I would want to make a lot of money out of it," she said.
Carbon certifier
Toitū Envirocare is a Government-owned Crown research institute and New Zealand's leading science-based environmental and carbon certifier.
Toitū technical general manager Dr Belinda Mathers said the lifecycle assessment team worked on the tool and it was developed within the Toitū technical team.
Mathers said the tool was commissioned by Spaceworks and based on the international measurement standard for products and services (ISO 14067) and then customised, but declined to disclose the cost to NBR.
She believes the growing interest in these tools is genuine and the fact that companies such as Spaceworks were coming to organisations such as Toitū for help rather than going it alone indicated that.
While the tool was developed specifically for New Zealand, Mathers said it would be relatively straightforward to turn it into something suitable for another geography through a few updates.
Toitū has seen increased interest from the building sector recently. Tools in the space are increasing as demand grows, but Mathers said they can be quite broad and not set up how people want or need them.
"So it might be that these things have been wanted for a while, but there wasn't quite the framework to work on that until relatively recently," she said.
Other sectors such as freight and travel are also interested in calculating carbon, and Mathers thinks there is room for different calculators focused on certain industry needs.
Building sector emissions 
After the agricultural industry, building and construction is the country's second-largest carbon emitter, with emissions growing 66% between 2007 and 2017.
New Zealand has made commitments to reducing and ultimately eliminating carbon emissions by 2050, signing the Zero Carbon Act in 2019.
New Zealand will try to eliminate carbon emissions by 2050.
It's estimated that building lower-carbon buildings could boost the New Zealand economy by $147 billion and support 46,000 jobs between 2025 and 2050.
Across the globe, construction and building operations make up nearly 40% of all carbon emissions, and global construction waste is set to double to 2.2 billion tonnes by 2025.
The growth of carbon interest 
Recently, in New Zealand and abroad, there has been an increase in interest in the carbon space, with large corporations in particular sectors such as banking hoping to get ahead of mandatory climate-related disclosure legislation.
From next year, the 200 largest listed companies, and financial companies, will have to report on their climate risk through these legislated disclosures – which are still being developed by the External Reporting Board.
Back in August, Kiwibank announced a partnership with sustainable fintech company Cogo that would allow business customers to calculate their emissions footprint.